I do like giving my home a festive spirit this time of year and as I shared with you last week I am taking a creative approach this year as all of my Christmas decoration are still in storage.
I am lucky enough to have an entire row of evergreen trees in my garden so I donned my red wellies over the weekend and with my secateurs in hand got snipping away to produce a bundle of boughs to make something Christmassy with.
I used them to jazz up the staircase in our little town house but took a different approach from the traditional swags, instead making festive bouquets and tying them on to the spindles. It was super easy to do and very budget friendly.
For each bouquet you will need
3-4 sprigs of evergreen – this can really be anything
Florist wire
About 18″ of ribbon (dollar store good for this)
A berry spray (dollar store or Joanns good for this)
Arrange your greenery, pinch together about a 1/4 way up and secure with florist wire. Tuck the berry spray in the wire. Then simply tie onto a stair spindle with ribbon, knotting first and finishing off with a sweet bow.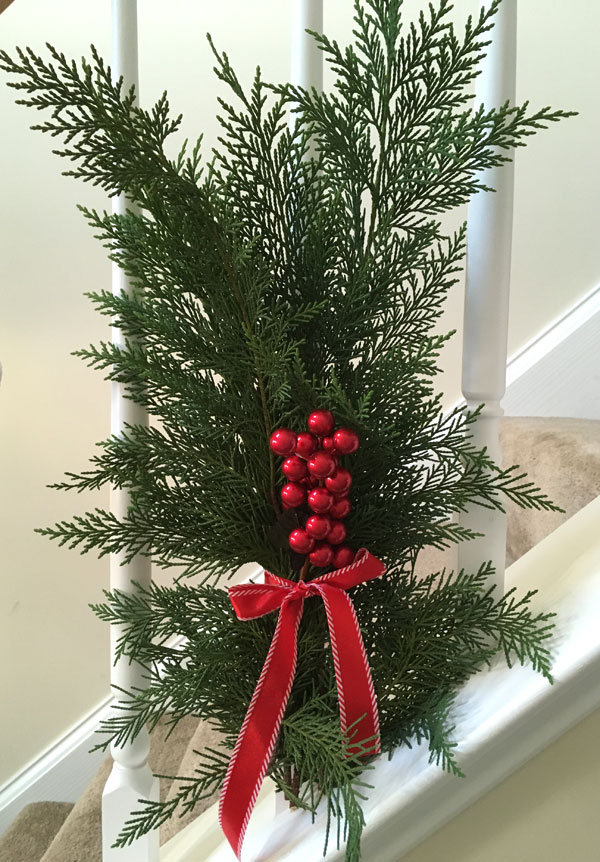 I used 4 of these bouquets on my stairs interspersing them with dollar store Christmas stocking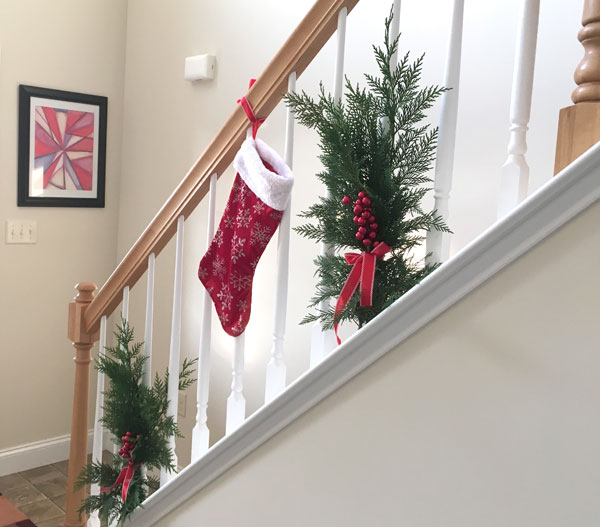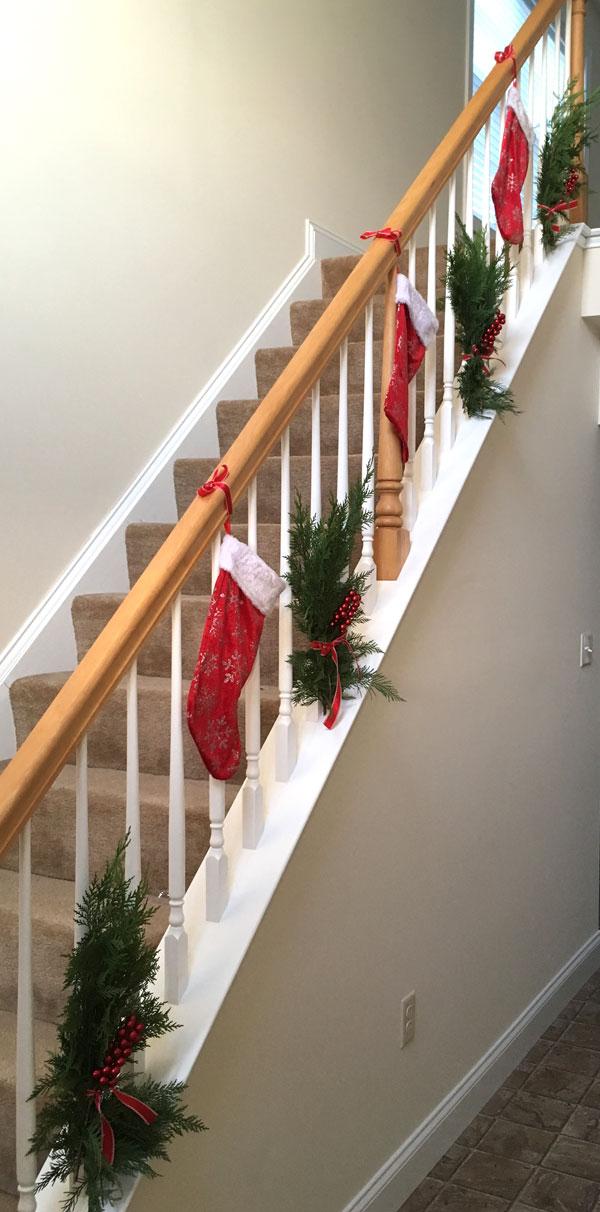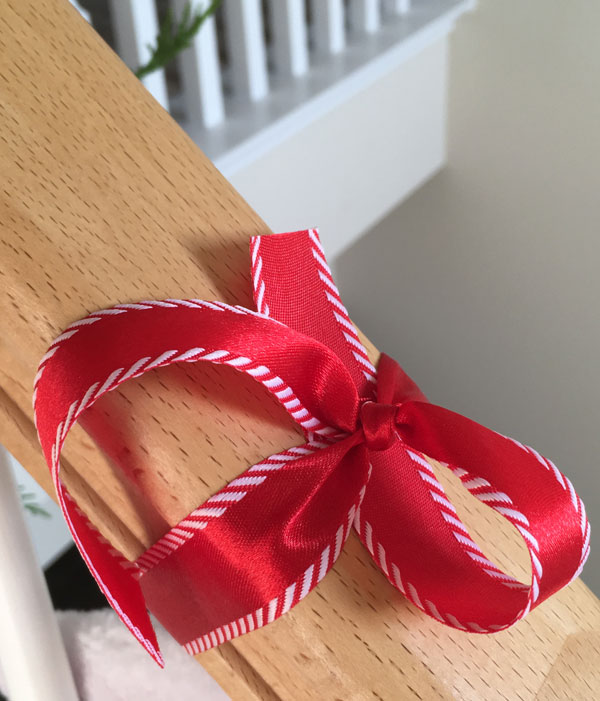 Flushed with success I then decided to make a wreath to hang at the top of the stairs. In my eagerness I forgot to take photos but it was easy to make too.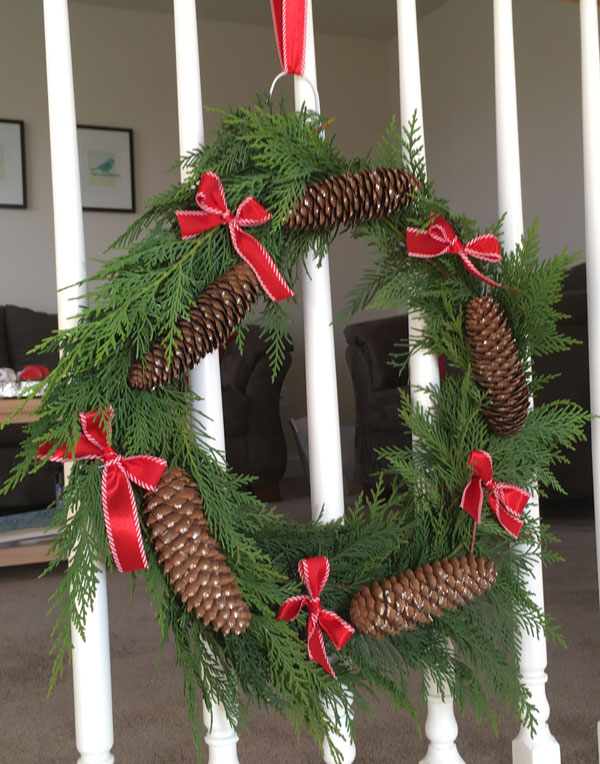 How to make a Christmas Wreath
you will need
wire coat hanger
sprigs of evergreen
florist wire
pine cones
ribbon made into bows
Start by stretching out the coat hanger to make it as round as possible, there is no need to remove the hook part. Then take a sprig of greenery and wire it around the hanger. I secure my first few pieces in three places, top bottom and middle. Continue to add sprigs, building up several layers which will hide the coat hanger. I think I did about three layers and at that point had the fullness I was after. Using florist wire attach the pine cones and ribbons.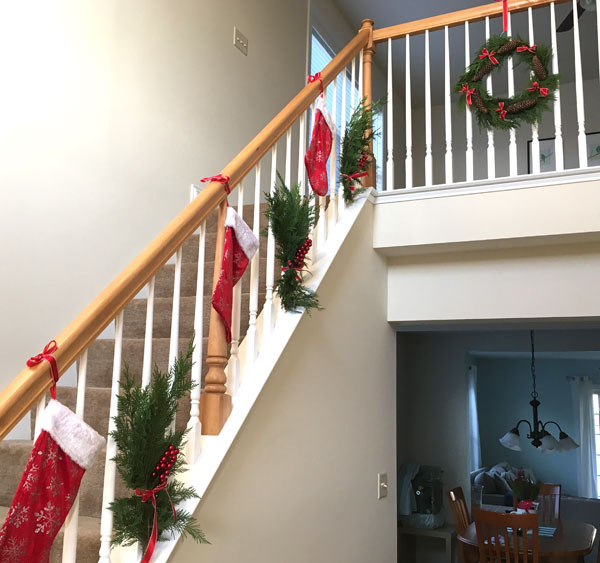 I think the whole thing could be enhance by a string of white lights so I am off out to buy those this afternoon.
Enjoy!
Love from Creative in Chicago ( now living in Pennsylvania)
XX