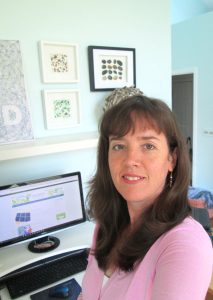 Hi, and welcome to Creative in Chicago!
I started this blog in 2010 when I moved to Chicago and into a 1970's house. The house was rather brown and boring full of dark heavy trim and beige walls. Yuk! But it had potential and was transformed into a much brighter airier home.
Fast forward to 2016 and  we put our much improved Chicago house on the market. It sold on the first day, to the first people who looked at it.
I now live just outside Lancaster, Pennsylvania, but am sticking with the name of my blog "Creative in Chicago"
I am creative through and through and by day work for myself as a graphic and web design here. But by night I like fiddling around in home decor, arts and crafts.
To be sure to catch up on all my creative endeavors subscribe to my blog feed or if you prefer, receive all the updates in your inbox but subscribing via email.
Zoe