One of the yuckiest basement rooms in ChicagoHouse#1 has now been magically transformed into a teenage penthouse (check out the before pictures!)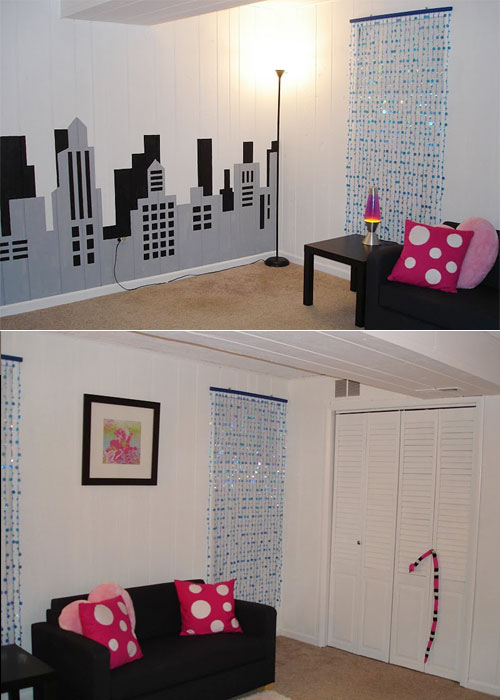 One of my favorite things about the room is the skyline I painted on one of the paneled walls but before I daubed my freshly painted white walls with grey and black paint, I needed to make sure the concept worked (and was approved by the teenage whose space this is!)
In real life I am a web and graphic designer so I had a few sneaky tools up my sleeve to "virtually decorate" the room with the skyline.
First I designed the skyline in Illustrator. It was then imported  into Photoshop and superimposed  on a photograph of the blank wall I  After a bit of color tweaking, playing around with different shade of gray I settled on a simple black and  gray color palette, again with approval of said teenage.
Using my Photoshop image I sketched the skyline on the wall with pencil, the panels were actually a plus for this as it enabled me to reproduce scale wise exactly what I had created on Photoshop. Yippee!
But then they let me down. Because the paneling has a pretty rough surface my initial plan to carefully tape off and paint the skyline failed so I ended up painting the whole thing free hand. It's a good job I have a steady hand. I was a bit of a cheap skate when it came to the paint. I bought a small can of black and did some home mixing with white to achieve the grey.
Looking to do this project? Download the Skyline graphic I created
It is fun a decorate a teenage space.
Love from
Creative In Chicago
XXX